Jurassic World: Dominion Dominates Fandom Wikis - The Loop
Play Sound
Chapter 6: Jailbreak
Required character(s)
-
Release date
October 19, 2017
Synced Play
Guardian level cap
20
Equipment level cap
22
List of chapters
Jailbreak is the sixth chapter in Terra Battle 2 Story.
Rewards
[
]
Recruitable Guardians:
First play field treasures:
Normal replay field treasures: TBD
Synced replay field treasures: TBD
Enemies
[
]
Scenario
[
]
Kukurakan: Did you block the way?
Gl: Not over. Keep…
El: Going. Exit near.
Kukurakan: There's an exit around here?
El: That way.
Gl: This way.
Ganah: Wait, wait, which is it?! Geez. Either way, we'd better get moving.
-
(A glowing cube appears.)
Ganah: That weird-looking box…
El: Not box. Prison.
Nene: It's like the one that trapped me…
Gl: Sais search. For Creator.
Kukurakan: The one who created you?
El: Will fix. Broken parts.
Gl: Sarah can.
El: Only Sarah can.
Ganah: You're telling me that you lot are looking for Sarah, too?
Nene: I don't get it. How do they even know who she is…?
Cynthia: I don't think there's a simple answer to that. We would be better served finding a safe way out of here first.
El: That way.
-
Nene: Ganah, Cynthia… Did you get your Guardians from Fores, the Great Spiritwood, too?
Ganah: That's right. Seems like ages ago now, though.
Cynthia: Where we come from, those deemed worthy come together and ask the Great Spiritwood for his blessing in a shared ceremony. Everyone was there at ours… except for Ganah.
Nene: Really? Did something keep him?
Cynthia: Sort of. I'm sure you know by now that he can be pretty laid-back at times…
Nene: Uh-oh. Don't tell me he was late?
Ganah: I had a lot on my plate that morning.
Cynthia: Is that right, sleepyhead? Tell me, did you count more sheep before or after you pulled the covers back over your head?
Ganah: Geez… If you're gonna put it that way, you could at least say I was exhausted from fending off a whole horde of monsters or something.
Kukurakan: Doesn't change the fact that you missed the ceremony, though…
Ganah: I don't need some stuffy old ceremony to command the power of a Guardian, kid.
Cynthia: Hah! Did we hit a nerve?
-
(Many Sais appear.)
El: Allow escape. These, different.
Sais: …..!
Gl: These help. Find Sarah.
Sais: …..!!
Ganah: Think you could translate for the less telepathically-inclined among us?
Gl: "Truth… Response, different. These, not Creator."
Nene: What does that mean…?
-
Cynthia: Wait, something's coming…
(Iron Titan appears.)
El: Iron… Titan.
Ganah: "Titan" is an understatement… That thing looks like it eats titans for breakfast! Here's hoping it stays put.
Kukurakan: Should we be prepared for a fight?
El: Wrong idea. Cannot win.
Gl: No choice. Get close.
(Iron Giant and Sais Generators appear.)
Cynthia: With so many Sais around? That seems unwise. We'd be surrounded!
Ganah: You want us to slip past the little guys and get close to the big one, huh?
El: Get close. Iron Titan.
Kukurakan: Are you sure it's not a trap?
Ganah: They haven't done wrong by us yet.
-
(The Iron Titan's eye glints.)
El: Awake.
Gl: Moving!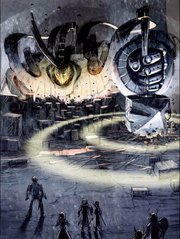 The Iron Titan turned operational,
plunging the land of the Sais
into chaos and confusion.
(A vortex appears.)
El: Now. Jump.
Ganah: Did I hear you right?!
(Everyone jumps in.)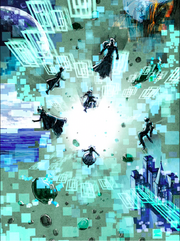 Gl: Give Gl. Your hands.